Posted on April 29th, 2018 by Frederik
Yet again, I might say, Toni Collette Online has a new layout. It seems like I cannot go on with a design for the site that stays for longer than a year. In its 14th year online, this is the site's 14th look :-) I hope you like just as much as the ones before. Some changes have been made – there is more information on the sidebar with easy-to-access categories and an updated list of all recent and upcoming productions. Also, the new look comes with the promise to update all the career sites with additional information over the next weeks. Also, prepare for a very special update coming later today.
Posted on April 27th, 2018 by Frederik
A24 really knows how to stir up our excitement for Toni Collette's turn in the upcoming "Hereditary". After a scary first trailer and an even scarier second one, they have now launched an official promo entitled "Toni Collette Terrifies" – and boy, she does! Can't wait for the film's June 8 release. Watch it below.
Posted on April 24th, 2018 by Frederik
Some fantastic new production stills from the upcoming "Hereditary" have been added to the photo gallery. The eagerly anticipated horror film, directed by Ari Aster, will release theatrically on June 8.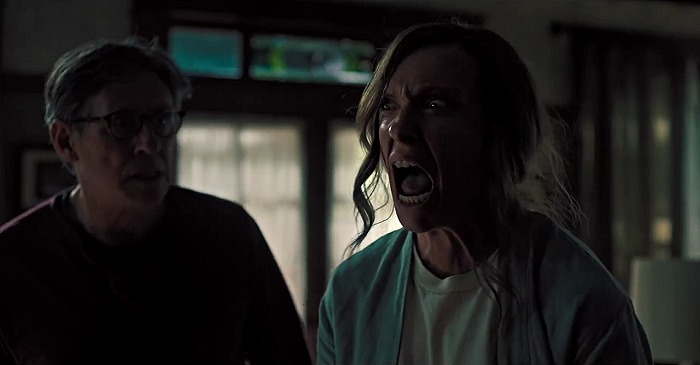 Posted on April 17th, 2018 by Frederik
A24 has released a second theatrical trailer for "Hereditary", and while it's only running for a minute, it serves to raise the hype that is surrounding the film ever since its Sundance premiere. Fans of the film have already drawn comparisons to horror icons like The Exorcist and Firestarter, though there are also hints of more contemporary twists on the genre like The Babadook and Under the Shadow, and it's plain to see that the Stranger Things effect is still in full swing. Hereditary will certainly be its own thing … a very, very creepy thing. The first atmospheric and adrenaline-pumping trailer introduced the family drama at the center of the horror film that drives the action and ratchets up the tension, and I'm happy to say this new trailer keeps that spirit intact. Writer-director Ari Aster's feature horror debut stars Toni Collette, Gabriel Byrne, Alex Wolff, and Milly Shapiro, and opens June 8th against Ocean's 8.
Posted on April 11th, 2018 by Frederik
The theatrical trailer for "Hearts Beat Loud" has been released today and it looks charming. The Brett Haley directed dramedy tells the story of how a father (Nick Offerman) and his daughter (Kiersey Clemons) form an unlikely songwriting duo in the summer before she leaves for college. They are supported by a fantastic supporting cast of Ted Danson, Blythe Danner, Sasha Lane and Toni Collette as Offerman's landlord (and – as the trailer suggests – love interest). Upon its world-premiere at the Sundance Film Festival, "Hearts Beat Loud" was met with positive reviews and currently holds a 100% score at Rotten Tomatoes. Let's have our fingers crossed it finds its audience when it releases on June 8 – the same day as "Hereditary"! Screencaptures have been added to the photo gallery and the trailer has been archived in the video archive.