Posted on April 4th, 2017 by Frederik
According to Deadline, Toni Collette and Thomas Haden Church, who last worked together in 2014 on Lucky Them, are reuniting on another project, the indie comedy Shriver which has a delightful premise. Shriver, a depressed often inebriated loner (Church), is mistaken for a renowned but reclusive author with whom he shares a name. He suddenly finds himself the subject of adulation and the center of attention at a writers conference celebrating the 20th anniversary of the book written by the real author. Shriver steps into the role, sparks a romance with the English professor (Collette) who runs the conference, and is about to pull it all off when the real Shriver appears. The project was written and will be directed by Michael Maren who wrote and directed the 2014 film The Short History of Decay. The project is being produced by Josh Kesselman at Thruline and Alfred Sapse.
Posted on February 27th, 2017 by Frederik
Toni Collette was spotted at tonight's 25th Annual Elton John AIDS Foundation's Oscar Viewing Party in Hollywood. A couple of pictures have been added to the photo gallery.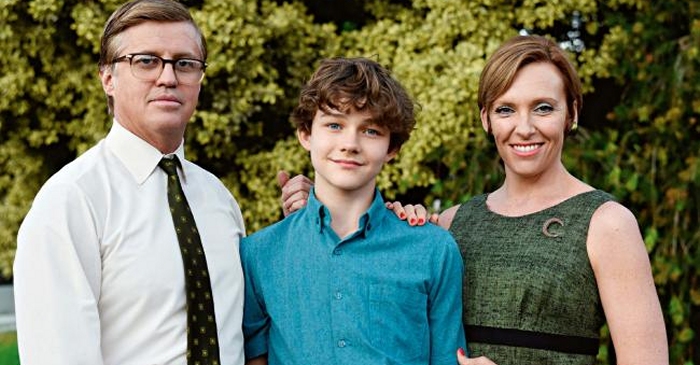 Posted on February 23rd, 2017 by Frederik
Toni Collette says her latest character is having a "classic midlife crisis". It's an experience that must seem a world away for the western Sydney-born actor, contentedly married with two children and never out of work, even as she longs for more roles on home soil. On the Western Australian set of the feature film Jasper Jones, Collette says she misses "the space, the light, family, friends, fresh air – all the basics". She is pleased to be here. The actor was so keen on Jasper Jones – the story of a bookish boy who becomes embroiled in the mysterious death of a local girl, based on the award-winning novel by Craig Silvey – that she wanted to option the rights to the film herself. "Everybody did," she says, laughing. She was beaten out by producers Vincent Sheehan and David Jowsey – but landed a performing role instead. The complete article can be read over at The Guardian, with some additional photographs being added to the photo gallery.
Posted on February 23rd, 2017 by Frederik
"Those doors would never be opening now were it not for Muriel's Wedding," Toni Collette says in an interview with Stellar. The Blacktown-born star said that she still gets stopped in the street by fans of the film who say 'you're terrible Muriel', more than two decades after it first hit the big screen. She said that playing the repressed, underdog character who became the unlikely heroine changed her life. 'It's pretty incredible that a film has stayed with people on such a deep level,' she said. Reminiscing her early days film the 1994 hit, she said she enjoyed the process of making the film without contemplating what would happen next. From there Toni had a succession of roles that catapulted her into international recognition with films such as The Sixth Sense, In Her Shoes, and Little Miss Sunshine. In late 2015, she returned to Australia to film Jasper Jones in Pemberton, WA. The coming-of-age movie sees the actress play the mother of a young boy from a small mining town who finds himself in a moral dilemma in 1960s Australia, which is set for release in March. The full interview can be read over at the Daily Telegraph's Stellar website.
Posted on February 9th, 2017 by Frederik
sbjctjournal has posted a wonderful interview with Toni Collette featuring an AMAAAZING new photoshoot. Head over to their site to read the full article. Award-winning actress Toni Collette arrives straight from Canada, where she just wrapped up one film. She's got two premiering at Sundance, and a third coming out in March. But the stereotype of egocentric Hollywood actress-on-the-go doesn't quite fit this thoughtful, quirky soul. Toni is someone who is deeply aware of her relationship to nature, humanity, and to the planet itself. She talks to sbjct about the fact that nobody exists in a bubble; we are all connected, and we are all part of the human collective.
I think we're all living at such a pace that just creates ignorance. I think until you have some space and some time and some silence, you don't actually absorb the context of your life. And if you start to look at your existence, and you start to look at the world and the imbalance of the types of lives being lived and the types of experiences being had, you can't help but want to help other people. I think it's awareness. And I think we live in a time and in a society that is driven by things that really are not a priority, and the things that are important are often overlooked, and once you connect with those, it will ultimately give you a much richer life. And a deeper appreciation of what you have.
Posted on February 9th, 2017 by Frederik
The trailer and poster for "Unlocked" has been released today, and it looks very good. That being said, the film has been awaiting theatrical release for over three years, so one was worried what could have gone wrong. London is under biological attack from terrorists in Unlocked, and only Noomi Rapace has the key. Rapace stars as a CIA operative who finds her mission compromised. She's forced to team up with an MI5 agent, played by Orlando Bloom, to track down the terrorist infiltration and prevent a major attack. Along the way, she's ably assisted (or hindered?) by the likes of Michael Douglas, Toni Collette, and John Malkovich. Quite a cast. Veteran British director Michael Apted is behind the camera on this one, which makes sense given his Bond pedigree on The World Is Not Enough. Unlocked arrives on 5 May. Screencaptures have been added to the photo gallery, alongside the film's poster. I'm still wondering if the shots of Toni firing a machine gun might be a spoiler :-) I guess we'll find out soon.
Posted on January 28th, 2017 by Frederik
"Fun Mom Dinner," starring Katie Aselton, Toni Collette, Bridget Everett and Molly Shannon, premiered Friday on the last day of the 2017 Sundance Film Festival in Park City. In the film, the four women, whose kids are in the same preschool class, get together for dinner — and things take an unexpected turn. Alethea Jones directs this comedy, written by Julie Rudd; part of the Premieres program. Edit: Lots of additional pictures have been added.