Posted on May 7th, 2017 by Frederik
"Unlocked" has premiered in UK theaters on Friday. Reviews have been favorable to mixed, all describing it as a female Bourne-story with praise for Rapace and criticism on the plot – but not as bad as one would have feared for a film that has been shelfed for over two years. Here's a selection of reviews from the British press, highlighting Toni's performance (and her much-mentioned Annie Lennox hairdo), production stills can be found below.
The Guardian, Peter Bradshaw, May 05, 2017
Veteran director Michael Apted has put together an entertaining espionage action-thriller, on the time-honoured theme of the agent going rogue because the bosses are complicit in the dirty dealing; Apted is working with a script from feature newcomer Peter O'Brien. It doesn't break much in the way of new ground, but that isn't exactly the point – it rattles along and Apted tackles it with gusto. It's also satisfying to see Toni Collette let rip with a machine gun.
Variety, Guy Lodge, May 07, 2017
As the Hollywood casting search for a new, rebooted Lisbeth Salander starts up again, spare a thought for poor Noomi Rapace. Having stepped aside for Rooney Mara in David Fincher's 2011 film, the original girl with the dragon tattoo is still proving her mettle for the part in far lesser vehicles like "Unlocked" — an anonymously enjoyable espionage thriller that, for purposes of memory, all but self-destructs the second the closing credits begin to roll. Collette, given the least to do of the headliners, but rocking a machine gun and platinum pixie crop with equally lethal aplomb.
The Guardian, Simran Hans, May 07, 2017
islamic State, MI5, a deadly virus and a neck-tattooed Orlando Bloom: screenwriter Peter O'Brien throws everything at the wall in this derivative thriller. Nothing sticks. With a cast of A-listers including John Malkovich, Michael Douglas and Toni Collette, not to mention Rapace herself, you'd expect at least one performance capable of cutting through the script's sludge. Still, worth a hate-watch if only to hear Bloom's former marine declare in full EastEnders mode: "I love a tagine."
The Telegraph, Robbie Colin, May 04, 2017
Think of Unlocked as the dress-down Friday of contemporary espionage thrillers. Everyone who was supposed to turn up seems to be there, in some shape or form, but in their eyes you virtually can see the stopwatch counting down to 6pm. Set in a scrupulously true-to-life version of London's East End, Michael Apted's film centres on former CIA interrogator Alice Racine (Noomi Rapace), who investigates an Islamist terror plot only to find herself embroiled in a web of inter-agency triple and quadruple crosses. She's Bourne within the sound of Bow bells, essentially, but the film's attempt to combine mainstream action and timely social realism results in the kind of sticky mess that should have been easily avoided.
Posted on April 4th, 2017 by Frederik
According to Deadline, Toni Collette and Thomas Haden Church, who last worked together in 2014 on Lucky Them, are reuniting on another project, the indie comedy Shriver which has a delightful premise. Shriver, a depressed often inebriated loner (Church), is mistaken for a renowned but reclusive author with whom he shares a name. He suddenly finds himself the subject of adulation and the center of attention at a writers conference celebrating the 20th anniversary of the book written by the real author. Shriver steps into the role, sparks a romance with the English professor (Collette) who runs the conference, and is about to pull it all off when the real Shriver appears. The project was written and will be directed by Michael Maren who wrote and directed the 2014 film The Short History of Decay. The project is being produced by Josh Kesselman at Thruline and Alfred Sapse.
Posted on February 27th, 2017 by Frederik
Toni Collette was spotted at tonight's 25th Annual Elton John AIDS Foundation's Oscar Viewing Party in Hollywood. A couple of pictures have been added to the photo gallery.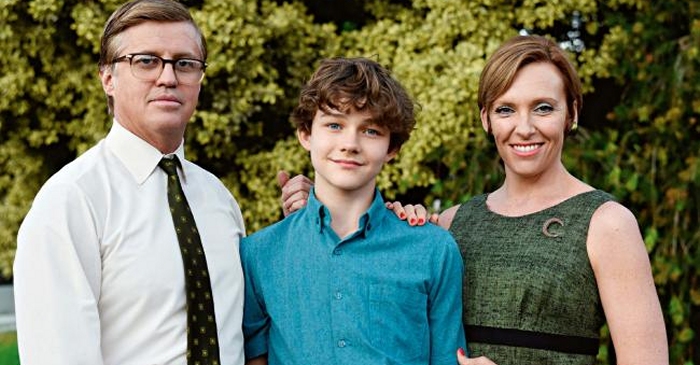 Posted on February 23rd, 2017 by Frederik
Toni Collette says her latest character is having a "classic midlife crisis". It's an experience that must seem a world away for the western Sydney-born actor, contentedly married with two children and never out of work, even as she longs for more roles on home soil. On the Western Australian set of the feature film Jasper Jones, Collette says she misses "the space, the light, family, friends, fresh air – all the basics". She is pleased to be here. The actor was so keen on Jasper Jones – the story of a bookish boy who becomes embroiled in the mysterious death of a local girl, based on the award-winning novel by Craig Silvey – that she wanted to option the rights to the film herself. "Everybody did," she says, laughing. She was beaten out by producers Vincent Sheehan and David Jowsey – but landed a performing role instead. The complete article can be read over at The Guardian, with some additional photographs being added to the photo gallery.
Posted on February 23rd, 2017 by Frederik
"Those doors would never be opening now were it not for Muriel's Wedding," Toni Collette says in an interview with Stellar. The Blacktown-born star said that she still gets stopped in the street by fans of the film who say 'you're terrible Muriel', more than two decades after it first hit the big screen. She said that playing the repressed, underdog character who became the unlikely heroine changed her life. 'It's pretty incredible that a film has stayed with people on such a deep level,' she said. Reminiscing her early days film the 1994 hit, she said she enjoyed the process of making the film without contemplating what would happen next. From there Toni had a succession of roles that catapulted her into international recognition with films such as The Sixth Sense, In Her Shoes, and Little Miss Sunshine. In late 2015, she returned to Australia to film Jasper Jones in Pemberton, WA. The coming-of-age movie sees the actress play the mother of a young boy from a small mining town who finds himself in a moral dilemma in 1960s Australia, which is set for release in March. The full interview can be read over at the Daily Telegraph's Stellar website.