Stream on iTunes
Original Release:
June 08, 2018 (USA)
Directed by:
Ari Aster
Written by:
Ari Aster
Produced by:
Kevin Scott Frakes, Lars Knudsen
Running Time:
127 minutes
Box Office:
N/A
When the matriarch of the Graham family passes away, her daughter's (Toni Collette) family begins to unravel cryptic and increasingly terrifying secrets about their ancestry. The more they discover, the more they find themselves trying to outrun the sinister fate they seem to have inherited. Making his feature debut, writer-director Ari Aster unleashes a nightmare vision of a domestic breakdown that exhibits the craft and precision of a nascent auteur, transforming a familial tragedy into something ominous and deeply disquieting, and pushing the horror movie into chilling new terrain with its shattering portrait of heritage gone to hell.
Cast & Characters
Toni Collette (Annie Graham), Gabriel Byrne (Steve Graham), Alex Wolff (Peter Graham), Milly Shapiro (Charlie Graham), Ann Dowd (Joan), Mallory Bechtel (Bridget)
Photo Gallery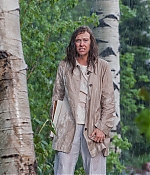 Production Notes
"Hereditary" had its world-premiere at the 2018 Sundance Film Festival. The feature-film debut of writer/director Ari Aster captivates the audience with a delicate and deliberate take on domestic turmoil, and itís filled with haunting manifestations. Asterís script ratchets up a feeling of delirious dread as the family members isolate themselves, only furthering their descent into madness. While consistently surprising in its twists and turns, this is a horror story firmly grounded within the desperate emotions of its compelling lead performances. Among a talented cast including Toni Collette, Gabriel Byrne, Alex Wolff, and Ann Dowd, the real standout is the menacing performance from young Broadway actress Milly Shapiro.