Posted on April 29th, 2018 by Frederik
While I can brag about having covered all of Toni Collette's feature and television films on this site, there has been one project I haven't been able to find – and which seemed impossible to find. In 1994, right before shooting "Muriel's Wedding", Toni Collette played the lead part of Cindy in a short subject called "This Marching Girl Thing", directed by Kelli Simpson, about a young baton twirler with the Southern Twirlettes. Cindy looks like she fits in, but she's just beginning to feel like she doesn't. The film, with a running time of 20 minutes, was shown at film festivals around the world, including the Chicago International Film Festival and the Los Angeles Gay & Lesbian Film Fest, but it was never widely released or shown on television. Now, with many many thanks to the wonderful Adrienne, we have found a copy and I'm pleased to present you screencaptures from this gem. An honorable mention goes to Matt Day, who plays Toni's boyfriend in the film – you surely remember him better as Brice Nobes, the cringe-worthy one-night-stand in "Muriel's Wedding". Click below to watch all screencaptures in the photo gallery. Once again, many thanks to Adrienne!
Posted on April 24th, 2018 by Frederik
Some fantastic new production stills from the upcoming "Hereditary" have been added to the photo gallery. The eagerly anticipated horror film, directed by Ari Aster, will release theatrically on June 8.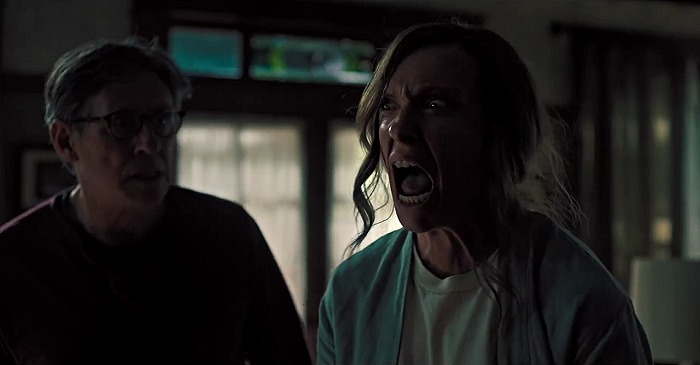 Posted on April 17th, 2018 by Frederik
A24 has released a second theatrical trailer for "Hereditary", and while it's only running for a minute, it serves to raise the hype that is surrounding the film ever since its Sundance premiere. Fans of the film have already drawn comparisons to horror icons like The Exorcist and Firestarter, though there are also hints of more contemporary twists on the genre like The Babadook and Under the Shadow, and it's plain to see that the Stranger Things effect is still in full swing. Hereditary will certainly be its own thing … a very, very creepy thing. The first atmospheric and adrenaline-pumping trailer introduced the family drama at the center of the horror film that drives the action and ratchets up the tension, and I'm happy to say this new trailer keeps that spirit intact. Writer-director Ari Aster's feature horror debut stars Toni Collette, Gabriel Byrne, Alex Wolff, and Milly Shapiro, and opens June 8th against Ocean's 8.
Posted on April 11th, 2018 by Frederik
The theatrical trailer for "Hearts Beat Loud" has been released today and it looks charming. The Brett Haley directed dramedy tells the story of how a father (Nick Offerman) and his daughter (Kiersey Clemons) form an unlikely songwriting duo in the summer before she leaves for college. They are supported by a fantastic supporting cast of Ted Danson, Blythe Danner, Sasha Lane and Toni Collette as Offerman's landlord (and – as the trailer suggests – love interest). Upon its world-premiere at the Sundance Film Festival, "Hearts Beat Loud" was met with positive reviews and currently holds a 100% score at Rotten Tomatoes. Let's have our fingers crossed it finds its audience when it releases on June 8 – the same day as "Hereditary"! Screencaptures have been added to the photo gallery and the trailer has been archived in the video archive.
Posted on March 25th, 2018 by Frederik
I'm a bit late on this one. Back in January, one of Toni's latest films, the Ben Lewin-directed "Please Stand By" was released on demand and in select US cities. Maybe I'm too old, I still connect an on-demand release of a feature film with its quality, as it was direct-to-video only a few years back. It's rather a question of promotion budget and giving people the opportunity to see it directly, so I'm good – plus, if you need one film to prove to on-demand releases are not back, check out "Please Stand By". It tackles some hefty issues wrapped around lots of Star Trek, and it works, for some miraculous reasons. Dakota Fanning plays an autistic girl who wants to submit her screenplay for a Star Trek contest, and leaves her care to do so. Toni Collette gives a warm supporting performance as her caretaker – we even have a small "United States of Tara" reunion with Patton Oswalt. Screencaptures have been added to the photo gallery.
Posted on February 20th, 2018 by Frederik
Apple brings us the exclusive trailer for the upcoming Toni Collette-Matthew Goode comedy (or dramedy) "Birthmarked": Two respected scientists decide to quit their jobs for their biggest experiment to date – parenthood! Raising three very different children, they seek to prove that everyone has the same potential to become anything they choose. The film is directed by Emanuel Hoss-Desmarais and will be released in select theaters starting March 30th, 2018. The trailer can be watched in the video archive, screencaptures have been added to the photo gallery.