Posted on May 19th, 2018 by Frederik
Toni Collette graces the cover of Sunday's Stellar Magazine in Australia. Subscribers to their site can read it online. Here's a snippet from the Daily Mail: Toni Collette has revealed how she has balanced motherhood with her Hollywood acting career. The 45-year-old described juggling both acting and family life as 'maddening' at times, during her interview with Stellar. 'But it's worth it in the end because, as I say, both areas of my life are really, really important to me,' she said. More bits can be read here. Also, Britain's Empire Magazine has a great Summer Movie guide with a great review on "Hereditary" and a special on past and recent horror classics. Edit: I've added scans from both Stellar Magazine and the Australian Sunday Times to the photo gallery, both run the same article but with different pictures.
Posted on May 18th, 2018 by Frederik
A bunch of scary new production stills and international posters for "Hereditary" have been added to the photo gallery.
Posted on May 4th, 2018 by Frederik
Ahead of its arrival on DirecTV in just weeks, Saban Films has released a new trailer and batch of images for director Alexandre Moors' upcoming Iraq War drama The Yellow Birds which stars Jennifer Aniston, Alden Ehrenreich, Tye Sheridan, Toni Collette, Jason Patric, and Jack Huston. Its official synopsis reads: "Against the explosive backdrop of the Iraq War, young soldiers Brandon Bartle (Alden Ehrenreich) and Daniel Murphy (Tye Sheridan) forge a deep bond of friendship. When tragedy strikes the platoon, one soldier must return home to face the hard truth behind the incident, and help a grieving mother (Jennifer Aniston) find peace. With a compelling mix of battle action and poignant drama, The Yellow Birds is an unforgettable movie whose power resonates long after the final frame." You can watch the trailer below. Screencaptures and production stills have been added to the photo gallery. The Yellow Birds arrives on direcTV on May 17th and is set for a theatrical release on June 15th.
Posted on April 29th, 2018 by Frederik
While I can brag about having covered all of Toni Collette's feature and television films on this site, there has been one project I haven't been able to find – and which seemed impossible to find. In 1994, right before shooting "Muriel's Wedding", Toni Collette played the lead part of Cindy in a short subject called "This Marching Girl Thing", directed by Kelli Simpson, about a young baton twirler with the Southern Twirlettes. Cindy looks like she fits in, but she's just beginning to feel like she doesn't. The film, with a running time of 20 minutes, was shown at film festivals around the world, including the Chicago International Film Festival and the Los Angeles Gay & Lesbian Film Fest, but it was never widely released or shown on television. Now, with many many thanks to the wonderful Adrienne, we have found a copy and I'm pleased to present you screencaptures from this gem. An honorable mention goes to Matt Day, who plays Toni's boyfriend in the film – you surely remember him better as Brice Nobes, the cringe-worthy one-night-stand in "Muriel's Wedding". Click below to watch all screencaptures in the photo gallery. Once again, many thanks to Adrienne!
Posted on April 24th, 2018 by Frederik
Some fantastic new production stills from the upcoming "Hereditary" have been added to the photo gallery. The eagerly anticipated horror film, directed by Ari Aster, will release theatrically on June 8.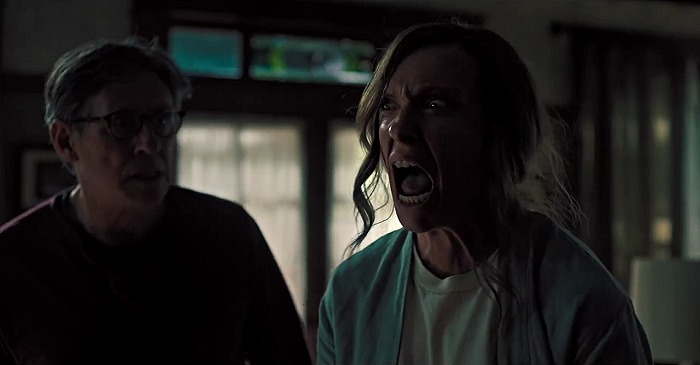 Posted on April 17th, 2018 by Frederik
A24 has released a second theatrical trailer for "Hereditary", and while it's only running for a minute, it serves to raise the hype that is surrounding the film ever since its Sundance premiere. Fans of the film have already drawn comparisons to horror icons like The Exorcist and Firestarter, though there are also hints of more contemporary twists on the genre like The Babadook and Under the Shadow, and it's plain to see that the Stranger Things effect is still in full swing. Hereditary will certainly be its own thing … a very, very creepy thing. The first atmospheric and adrenaline-pumping trailer introduced the family drama at the center of the horror film that drives the action and ratchets up the tension, and I'm happy to say this new trailer keeps that spirit intact. Writer-director Ari Aster's feature horror debut stars Toni Collette, Gabriel Byrne, Alex Wolff, and Milly Shapiro, and opens June 8th against Ocean's 8.