Posted on October 13th, 2018 by Frederik
Last June, "Hearts Beat Loud" released US theaters to glowing reviews and very little box office, which is really a shame. This is one of the few films from the last years which sucks you in within minutes with its pace, great beat and full heart. It's a star-is-born performance from Kiersey Clemons – and the same can be said about Nick Offerman in his first starring role in a feature film (at least to my knowledge). They're a wonderful team and supported by charming supporting turns from Ted Danson, Blythe Danner and Toni Collette – who cannot be separated from a karaoke machine, it seems :-) "Hearts Beat Loud" has been released on DVD and Blu-Ray in September. If you're looking for a wonderful film that warms your heart, this one is for you! Screencaptures from the Blu-Ray have been added to the photo gallery.
Posted on July 29th, 2018 by Frederik
The term "first look" can be taken word by word here, since it's really just a couple of blink-and-you-miss-it's of Toni Collette, but how exciting to see "Wanderlust" among the many high profile productions by the BBC to be released this Fall. The series will simultaneously premiere on Netflix, a definite release date has not been announced yet. Check it out below.
Posted on May 31st, 2018 by Frederik
A24 has started the promotional tour for "Hereditary", which will be in full swing by the end of the week. After a press junket in Los Angeles last week, from which video interviews are now being released here and there as we speak, Toni will be in London to attend the British Sundance Film Festival to talk about the film and will also be a guest on Friday's "The Graham Norton Show". Quite a few reviews are being released already for the film's June 15 release, but this time I've decided to not read anything and see the film without any spoilers. The first batch of press junket interviews have been added to the video archive, pictures from the event can be found in the photo gallery and below is IMDb's chat with Toni and co-star Alex Wolff. Enjoy and check back for more updates this week.
Posted on May 4th, 2018 by Frederik
Ahead of its arrival on DirecTV in just weeks, Saban Films has released a new trailer and batch of images for director Alexandre Moors' upcoming Iraq War drama The Yellow Birds which stars Jennifer Aniston, Alden Ehrenreich, Tye Sheridan, Toni Collette, Jason Patric, and Jack Huston. Its official synopsis reads: "Against the explosive backdrop of the Iraq War, young soldiers Brandon Bartle (Alden Ehrenreich) and Daniel Murphy (Tye Sheridan) forge a deep bond of friendship. When tragedy strikes the platoon, one soldier must return home to face the hard truth behind the incident, and help a grieving mother (Jennifer Aniston) find peace. With a compelling mix of battle action and poignant drama, The Yellow Birds is an unforgettable movie whose power resonates long after the final frame." You can watch the trailer below. Screencaptures and production stills have been added to the photo gallery. The Yellow Birds arrives on direcTV on May 17th and is set for a theatrical release on June 15th.
Posted on April 27th, 2018 by Frederik
A24 really knows how to stir up our excitement for Toni Collette's turn in the upcoming "Hereditary". After a scary first trailer and an even scarier second one, they have now launched an official promo entitled "Toni Collette Terrifies" – and boy, she does! Can't wait for the film's June 8 release. Watch it below.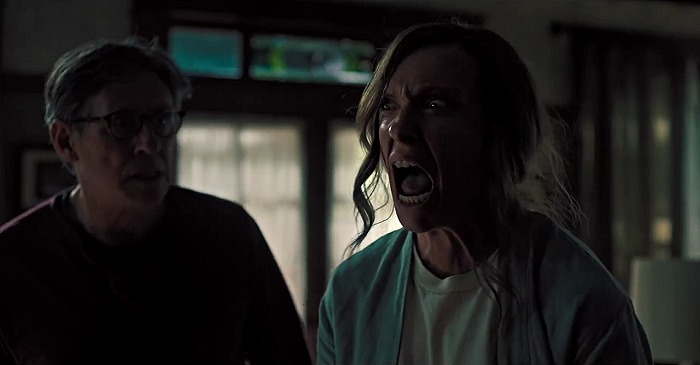 Posted on April 17th, 2018 by Frederik
A24 has released a second theatrical trailer for "Hereditary", and while it's only running for a minute, it serves to raise the hype that is surrounding the film ever since its Sundance premiere. Fans of the film have already drawn comparisons to horror icons like The Exorcist and Firestarter, though there are also hints of more contemporary twists on the genre like The Babadook and Under the Shadow, and it's plain to see that the Stranger Things effect is still in full swing. Hereditary will certainly be its own thing … a very, very creepy thing. The first atmospheric and adrenaline-pumping trailer introduced the family drama at the center of the horror film that drives the action and ratchets up the tension, and I'm happy to say this new trailer keeps that spirit intact. Writer-director Ari Aster's feature horror debut stars Toni Collette, Gabriel Byrne, Alex Wolff, and Milly Shapiro, and opens June 8th against Ocean's 8.