Posted on May 11th, 2018 by Frederik
This coming Sunday is Mother's Day, that annual celebration when we all let our moms know just how much they mean to us. Some of us do it with flowers, some with chocolate, and some with the perfect card that says everything that's in our hearts. But this year why not get the woman that raised you something different? Like two ticket movie tickets for a fun night out. Though based on the new "Happy Mother's Day" trailer for the horror film Hereditary, you might need to find a less traumatizing way to say "I love you." The latest teaser for Hereditary–a movie so scary it had audiences at the Sundance Film Festival losing their minds, and (hilariously) terrorized parents and children when a trailer for it accidentally aired before Peter Rabbit–wishes all the moms out their a Happy Mother's Day this year. But hopefully none of our moms will be haunted by demons and burning men on their special holiday–or any other day–the way Toni Collette is here. Bits were written by Nerdist, check their site for more.
Posted on April 27th, 2018 by Frederik
A24 really knows how to stir up our excitement for Toni Collette's turn in the upcoming "Hereditary". After a scary first trailer and an even scarier second one, they have now launched an official promo entitled "Toni Collette Terrifies" – and boy, she does! Can't wait for the film's June 8 release. Watch it below.
Posted on April 24th, 2018 by Frederik
Some fantastic new production stills from the upcoming "Hereditary" have been added to the photo gallery. The eagerly anticipated horror film, directed by Ari Aster, will release theatrically on June 8.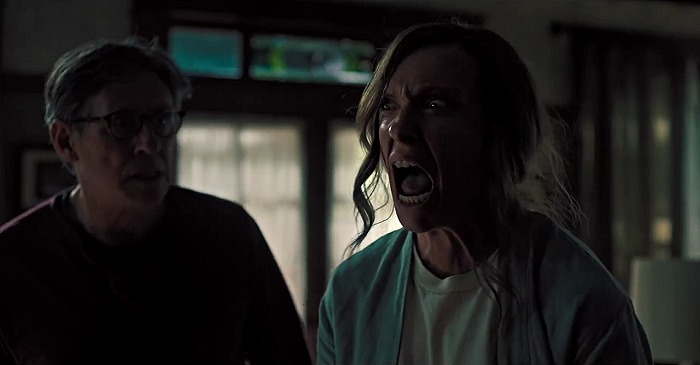 Posted on April 17th, 2018 by Frederik
A24 has released a second theatrical trailer for "Hereditary", and while it's only running for a minute, it serves to raise the hype that is surrounding the film ever since its Sundance premiere. Fans of the film have already drawn comparisons to horror icons like The Exorcist and Firestarter, though there are also hints of more contemporary twists on the genre like The Babadook and Under the Shadow, and it's plain to see that the Stranger Things effect is still in full swing. Hereditary will certainly be its own thing … a very, very creepy thing. The first atmospheric and adrenaline-pumping trailer introduced the family drama at the center of the horror film that drives the action and ratchets up the tension, and I'm happy to say this new trailer keeps that spirit intact. Writer-director Ari Aster's feature horror debut stars Toni Collette, Gabriel Byrne, Alex Wolff, and Milly Shapiro, and opens June 8th against Ocean's 8.
Posted on January 30th, 2018 by Frederik
A24 has launched the official trailer for "Hereditary" and it looks SO GOOD!!! Starring Toni Collette (in a ferocious performance), Alex Wolff, Milly Shapiro, Ann Dowd, and Gabriel Byrne, the story revolves around a woman who begins to uncover the terrifying secrets rooted in her family tree, following the passing of her mother. Here's the official synopsis: When Ellen, the matriarch of the Graham family, passes away, her daughter's family begins to unravel cryptic and increasingly terrifying secrets about their ancestry. The more they discover, the more they find themselves trying to outrun the sinister fate they seem to have inherited. Making his feature debut, writer-director Ari Aster unleashes a nightmare vision of a domestic breakdown that exhibits the craft and precision of a nascent auteur, transforming a familial tragedy into something ominous and deeply disquieting, and pushing the horror movie into chilling new terrain with its shattering portrait of heritage gone to hell. "Hereditary" hits cinemas on June 8th.
Posted on January 23rd, 2018 by Frederik
That's the headline from one of the reviews after Toni's upcoming horror film "Hereditary" had its world-premiere at the Sundance Film Festival earlier this week. Sounds like a great leading role in an unusual horror film. Count me in. Here's a collection of reviews. Edit: More reviews from the "big ones" have been added as well:
The Hollywood Reporter, David Rooney (January 24, 2018)
Arguably the most effective domestic horror chiller since The Conjuring and The Babadook, this A24 release should hit discerning genre fans right where they live. Aster's ability to modernize his obvious reverence for the expert mood modulation, visual command and layered characterizations that defined sophisticated horror of the 1960s and '70s catapults the writer-director into the vanguard of contemporary horror auteurs. The film's superb cast, led by an astonishingly good Toni Collette, represents another strong draw.
Variety, Owen Gleiberman (January 24, 2018)
Collette's performance is staggering. She plays Annie as a woman who begins to wear her buried rage and guilt on the outside. It pours out of her, as if she were "possessed," and indeed she is — but by what, or whom? The fear and violence that secretly dominate her express the spirits that came before her, incarnated by no one but herself.
Vulture, Kyle Buchanan (January 24, 2018)
Once Hereditary finally shows its cards, Aster goes full-throttle and serves up some memorably scary images and unnerving sound motifs that had the audience yelping. The back half is where Collette really pulls the stops out, and it's a pleasure to watch her get such a full-fledged leading-actress showcase, even though the poor woman goes through hell.
Screen Daily, Tim Grierson (January 25, 2018)
Collette is asked to shoulder a great deal as the film's main character. It's typical for the lead in a horror movie to react to seismic shocks and deliver ear-splitting screams, but Aster has given her a role which is impressively nuanced. Hereditary paints a portrait of a woman who has lived her life feeling cursed — she's fearful that, for some reason, she deserves the woes that have visited her family. Exactly why she holds onto this belief is part of the delicate character development that Hereditary finesses into a story that gets increasingly more tense. Collette wears Annie's anguish movingly, the film's horrors always connecting to the character's sense of inadequacy as a mother and daughter.
Vanity Fair, Richard Lawson (January 25, 2018)
I don't want to say anything else about what goes on in Hereditary, because it benefits from pure discovery. What I can say is that Collette is a force throughout, turning in a full-bodied performance that gloriously skirts the edges of camp before returning us to a place of primal humanity. It's a big, rewarding bit of work, and a good reminder that Collette should be let loose and given room to do her thing more often.
IndieWire, Eric Kohn (January 23, 2018)
Before it becomes an ultra-creepy haunted house movie, "Hereditary" is an almost-unbearable study of the grieving process. A family copes with traumatizing loss, screaming, crying, and growing apart as the scariest aspect of their lives becomes the actual hardships of each passing day. At its center, Annie (a terrifically unhinged Toni Collette) copes with her mother's death by throwing herself into building a series of intricate miniatures in her large, creaky home. Her distracted husband (Gabriel Byrne) mostly keeps to himself, while her teenage son Peter (Alex Wolff) sulks on the sidelines, and his spooky younger sister Charlie (Milly Shaprio, who won a Tony for "Matilda" on Broadway) lurks around saying little. Just when it seems like "Hereditary" is entering traditional creepy-kid territory with Charlie giving off serious "The Omen" vibes, the movie takes an abrupt, violent twist that further the complicates the family's dark moment.
Continue Reading