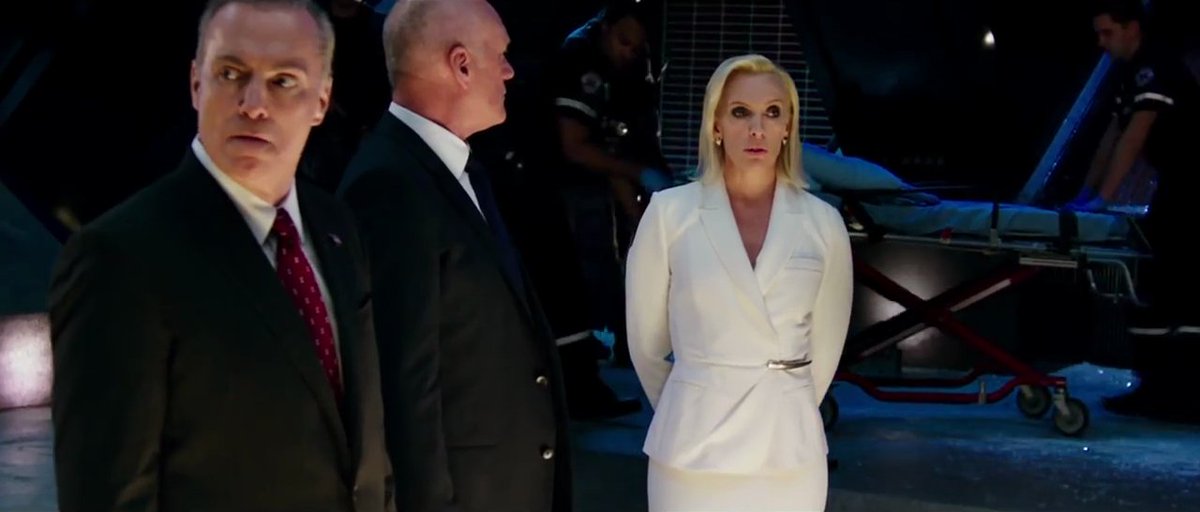 A first teaser trailer for "XXX: The Return of Xander Cage" has been released yesterday and it features a glimpse of Toni's yet-unnamed character. Click the preview image to watch the teaser. XXX will premiere in the United States on January 20, 2017.
This one has been finished quite fast. Among of Toni's upcoming films, "Imperium" has been announced last and will be released first – next month already! Here's some additional tidbits from Vanity Fair: The film follows Daniel Radcliffe as Nate Foster, an idealistic fed who shaves his head and ditches his Harry Potter specs in order to go undercover, by order of an agent played by Toni Collette. (And who can blame him—anyone among us would play neo-Nazi if Toni Collette asked us politely, right?) Once there, he encounters violence, swastikas, and all manner of angry white men; think Death Eaters targeting mudbloods, but, you know, real. The nail-biter of a film—just the latest example of Radcliffe taking on a role that pushes him out of his comfort zone—premieres in theaters and On Demand August 19.
According to Variety, Toni Collette, Katie Aselton, Bridget Everett and Molly Shannon are starring in the ensemble comedy "Fun Mom Dinner" with shooting starting Wednesday in Los Angeles. The film marks the directorial debut of Australian helmer Alethea Jones. Other cast members include Adam Scott ("Parks and Recreation"), Rob Huebel ("Transparent"), Adam Levine and Paul Rust. Jones is directing from a script by Julie Yaeger Rudd, centering on four moms whose only common ground is their kids' preschool class, who decide to get together for a harmless "fun mom dinner." When the night suddenly takes an unexpected turn and things gets real, these unlikely new friends soon realize they have more in common than just marriage and motherhood. June Pictures and Gettin' Rad Productions are the production companies. Producers are June Pictures' partners Andrew Duncan and Alex Saks with Gettin' Rad's Naomi Scott. Paul Rudd and Adam Scott will executive produce. "We're really pleased that this has become such a female-driven project," Naomi Scott told Variety. "It really is a love letter to moms." She said that "Fun Moms Dinner" had its origins in discussions about motherhood that she had with Julie Yaeger Rudd, Paul Rudd's wife. Naomi Scott is married to Adam Scott. "A lot of the story is based on our common experiences," she added. "Julie's script is hysterically funny."
Richard Roxburgh, who carried off a riveting portrayal of corrupt cop Roger Rogerson in the ABC's 1995 miniseries "Blue Murder", is again playing the main role in a new two-part miniseries depicting his later years. On Tuesday Roxburgh, along with fellow actors Peter Phelps and Aaron Pedersen, were filming a scene at the Rag & Famish bar in North Sydney, in what appeared to be a depiction of a wedding set in the 1980s. According to the Herald Sun, Toni Collette joined Roxburgh on the set yesterday. The case and Roger Rogerson's story has received new attraction after both Rogerson and Glen McNamara were found guilty in the NSW Supreme Court of murdering university student Jamie Gao. The new miniseries, dubbed "Blue Murder 2", is the work of legendary TV producer John Edwards' production company Rough Diamond. It will be directed by Mike Jenkins, the man who directed the original production. This will be Toni's and Richard's third collaboration after "Like Minds" and "Rake".
Some great new video clips have been added to the archive – starting with the most recent promotion of last year's "Krampus" and going back in time with promotional featurettes for "Little Miss Sunshine", "Japanese Story", "Changing Lanes" and "About A Boy". Among the highlights is a 1998 appearance on Late Night with Conan O'Brien to promote the theatrical release of "Velvet Goldmine". Many thanks to Tenaciously Procrastinate for the original upload. Enjoy the new clips.
Among the projects that Toni Collette has under her mantle for 2016/2017 is "Yellow Birds", a contemporary war drama featuring a cast that includes Jennifer Aniston, Alden Ehrenreich, Jack Huston and Tye Sheridan. Deadline's Pete Hammond wrote about the film in his piece about its production company, Cinelou, with some interesting background and some praise for its acting: Although "Yellow Birds" is slated for 2017, the company plans to qualify it for this year's Oscar race in several categories. I got a look at 11 minutes of it, and though it definitely has the feel of Clint Eastwood's American Sniper, there also seems to be some strong female supporting roles for Aniston and Toni Collette that could figure into acting races if all goes well.