Toni's new film "Imperium" will be released tomorrow in the United States – in limited theatrical release and on demand. After "Lucky Them", I'm still getting used to this kind of release. Although this one stars Daniel Radcliffe, there's little promotion. But with good reviews, hopefully "Imperium" will leave an impression. Lionsgate has released three production stills featuring Toni, and a couple of reviews have been assembled:
The Huffington Post: Based on the experiences of former FBI counter-terrorism agent Michael German, but placed in a fictional context for the film, Ragussis and the cast, led by Daniel Radcliffe as an undercover FBI agent and his FBI superior, played by Toni Collette, had no idea the film would be so timely at the time it was made. Rather, it was a story that had originated from Ragussis doing research into WWII, and then coming upon the topic of Neo-Nazis and other groups associated with white separatist, supremacist, and white pride movements.
The Los Angeles Times: Inspired by the experiences of former FBI Special Agent Mike German, who receives story credit here, the movie tracks an earnest young federal agent, Nate Foster (Radcliffe), as he attempts to bring down a radical right-wing terrorist group based in Virginia. Encouraged by his brash supervisor (an excellent Toni Collette), Nate shaves his head and goes undercover to infiltrate a crisscross of potentially lethal racists and neo-Nazis. These include a fiery talk show host (Tracy Letts), a suburban family man (Sam Trammell), an Aryan Alliance leader (Chris Sullivan) and an array of "soldiers" in the cause.
NJ.com Director Daniel Ragussis is making his first feature here, and sometimes his over-enthusiasm – or breathless naiveté – show. There are one-too-many rapidly edited montages of racist terrorists and white-power marches; the smoothly smiling villainy of one character is overdone. And the ending feels pat. But the movie is very well-acted, and often – particularly in scenes of a protest-turned-riot, a racist street fight, and Nat's suspicions that he's been found out – uncomfortably gripping. Depressingly relevant, too, in this increasingly extreme and divided nation.
Yahoo Movies: Radcliffe's Nate Foster is a brilliant agent, but wet-behind-the-ears, disappointed to discover the jihadist terrorist suspect he's been tracking for weeks is really just a low-level functionary. And yet his ability to empathize with the suspect during questioning attracts the attention of a superior, Angela Zamparo (Toni Collette, all gum-smacking insouciance), who suspects an extremist white nationalist group is trying to build a dirty bomb, and thinks an Alex Jones-styled, right-wing web-radio host (Tracy Letts) might have knowledge of it. Desperate to make his name in the agency, Nate agrees to become her mole.
I've somehow missed these film news from July, so here we go, better late than never: Harvey Keitel, Toni Collette, Rossy de Palma and Stanislas Mehrar have joined the cast of French director Amanda Sthers's English-language debut Madame, a comedy-drama revolving around a housemaid asked to masquerade as a wealthy heiress by her employees. The feature – produced by Paris-based LGM in partnership with Studiocanal – will shoot in Paris for six weeks from today (July 20). Collette and Keitel play wealthy American couple Anne and Bob who have recently set up home in Paris and decide to give a high-class dinner for a dozen distinguished diners. The last-minute arrival of Bob's son from his first marriage suddenly takes the number of guests to 13. The superstitious Anne asks housemaid Maria (played by de Palma) to change her uniform and pretend to be a wealthy Spanish friend.
In this guise, she is seated beside David, an art expert and British aristocrat. He falls for her charms and asks to see her again. Continuing the masquerade, Maria embarks on a romance. Anne's world is thrown into a spin as Maria's new-found happiness exposes her own loveless marriage and shakes the foundations of her elitist social beliefs. She sets out to destroy the budding love affair. LGM co-chiefs Cyril Colbeau-Justin and Jean-Baptiste Dupont are producing alongside Studiocanal CEO Didier Lupfer and Alain Pancrazi of Made in PM.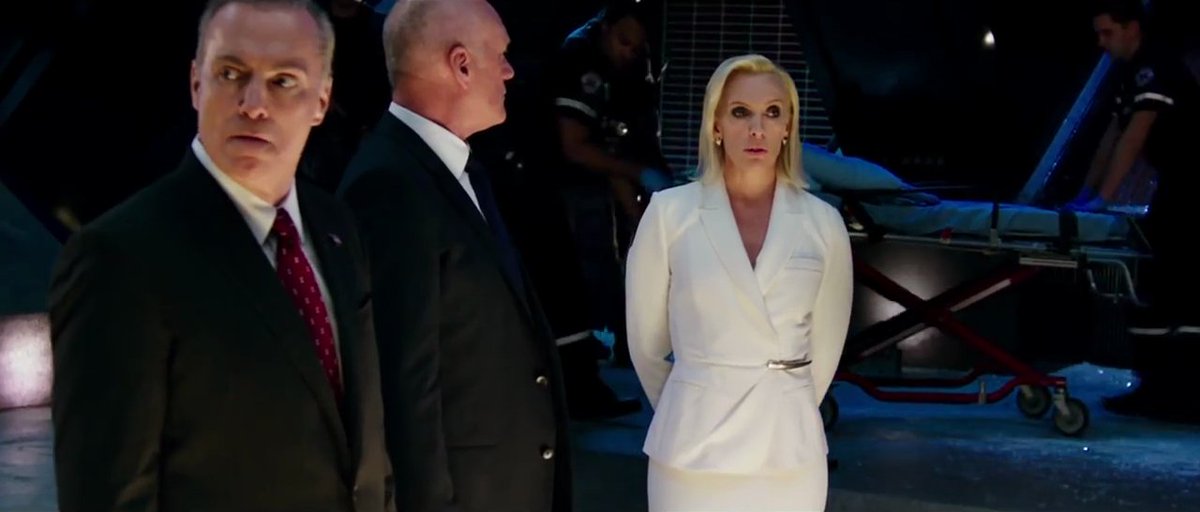 A first teaser trailer for "XXX: The Return of Xander Cage" has been released yesterday and it features a glimpse of Toni's yet-unnamed character. Click the preview image to watch the teaser. XXX will premiere in the United States on January 20, 2017.
This one has been finished quite fast. Among of Toni's upcoming films, "Imperium" has been announced last and will be released first – next month already! Here's some additional tidbits from Vanity Fair: The film follows Daniel Radcliffe as Nate Foster, an idealistic fed who shaves his head and ditches his Harry Potter specs in order to go undercover, by order of an agent played by Toni Collette. (And who can blame him—anyone among us would play neo-Nazi if Toni Collette asked us politely, right?) Once there, he encounters violence, swastikas, and all manner of angry white men; think Death Eaters targeting mudbloods, but, you know, real. The nail-biter of a film—just the latest example of Radcliffe taking on a role that pushes him out of his comfort zone—premieres in theaters and On Demand August 19.
According to Variety, Toni Collette, Katie Aselton, Bridget Everett and Molly Shannon are starring in the ensemble comedy "Fun Mom Dinner" with shooting starting Wednesday in Los Angeles. The film marks the directorial debut of Australian helmer Alethea Jones. Other cast members include Adam Scott ("Parks and Recreation"), Rob Huebel ("Transparent"), Adam Levine and Paul Rust. Jones is directing from a script by Julie Yaeger Rudd, centering on four moms whose only common ground is their kids' preschool class, who decide to get together for a harmless "fun mom dinner." When the night suddenly takes an unexpected turn and things gets real, these unlikely new friends soon realize they have more in common than just marriage and motherhood. June Pictures and Gettin' Rad Productions are the production companies. Producers are June Pictures' partners Andrew Duncan and Alex Saks with Gettin' Rad's Naomi Scott. Paul Rudd and Adam Scott will executive produce. "We're really pleased that this has become such a female-driven project," Naomi Scott told Variety. "It really is a love letter to moms." She said that "Fun Moms Dinner" had its origins in discussions about motherhood that she had with Julie Yaeger Rudd, Paul Rudd's wife. Naomi Scott is married to Adam Scott. "A lot of the story is based on our common experiences," she added. "Julie's script is hysterically funny."
Richard Roxburgh, who carried off a riveting portrayal of corrupt cop Roger Rogerson in the ABC's 1995 miniseries "Blue Murder", is again playing the main role in a new two-part miniseries depicting his later years. On Tuesday Roxburgh, along with fellow actors Peter Phelps and Aaron Pedersen, were filming a scene at the Rag & Famish bar in North Sydney, in what appeared to be a depiction of a wedding set in the 1980s. According to the Herald Sun, Toni Collette joined Roxburgh on the set yesterday. The case and Roger Rogerson's story has received new attraction after both Rogerson and Glen McNamara were found guilty in the NSW Supreme Court of murdering university student Jamie Gao. The new miniseries, dubbed "Blue Murder 2", is the work of legendary TV producer John Edwards' production company Rough Diamond. It will be directed by Mike Jenkins, the man who directed the original production. This will be Toni's and Richard's third collaboration after "Like Minds" and "Rake".
Some great new video clips have been added to the archive – starting with the most recent promotion of last year's "Krampus" and going back in time with promotional featurettes for "Little Miss Sunshine", "Japanese Story", "Changing Lanes" and "About A Boy". Among the highlights is a 1998 appearance on Late Night with Conan O'Brien to promote the theatrical release of "Velvet Goldmine". Many thanks to Tenaciously Procrastinate for the original upload. Enjoy the new clips.