Posted on April 24th, 2018 by Frederik
Some fantastic new production stills from the upcoming "Hereditary" have been added to the photo gallery. The eagerly anticipated horror film, directed by Ari Aster, will release theatrically on June 8.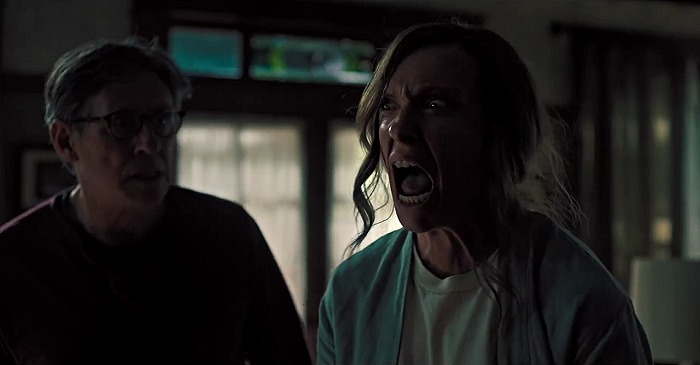 Posted on April 17th, 2018 by Frederik
A24 has released a second theatrical trailer for "Hereditary", and while it's only running for a minute, it serves to raise the hype that is surrounding the film ever since its Sundance premiere. Fans of the film have already drawn comparisons to horror icons like The Exorcist and Firestarter, though there are also hints of more contemporary twists on the genre like The Babadook and Under the Shadow, and it's plain to see that the Stranger Things effect is still in full swing. Hereditary will certainly be its own thing … a very, very creepy thing. The first atmospheric and adrenaline-pumping trailer introduced the family drama at the center of the horror film that drives the action and ratchets up the tension, and I'm happy to say this new trailer keeps that spirit intact. Writer-director Ari Aster's feature horror debut stars Toni Collette, Gabriel Byrne, Alex Wolff, and Milly Shapiro, and opens June 8th against Ocean's 8.
Posted on April 11th, 2018 by Frederik
The theatrical trailer for "Hearts Beat Loud" has been released today and it looks charming. The Brett Haley directed dramedy tells the story of how a father (Nick Offerman) and his daughter (Kiersey Clemons) form an unlikely songwriting duo in the summer before she leaves for college. They are supported by a fantastic supporting cast of Ted Danson, Blythe Danner, Sasha Lane and Toni Collette as Offerman's landlord (and – as the trailer suggests – love interest). Upon its world-premiere at the Sundance Film Festival, "Hearts Beat Loud" was met with positive reviews and currently holds a 100% score at Rotten Tomatoes. Let's have our fingers crossed it finds its audience when it releases on June 8 – the same day as "Hereditary"! Screencaptures have been added to the photo gallery and the trailer has been archived in the video archive.
Posted on April 9th, 2018 by Frederik
In an article by The Hollywood Reporter about the Black-ish' creator Kenya Barris' exit from ABC Studios, there have been some details on the pilot "Unit Zero", which Toni Collette shot last year for the network: "In addition to Black-ish, [Barris] has developed multiple projects for the network but landed only one series pickup: spinoff Grown-ish, which was originally developed for ABC. Grown-ish was one of three projects Barris developed for ABC in 2017. Politically themed family comedy Libby and Malcolm, starring Felicity Huffman and Courtney B. Vance with a script from Barris, was considered a frontrunner to go to series given its timely premise of two politically divided pundits who fall in love, but ABC passed. The network also went to pilot on Toni Collette CIA drama Unit Zero, a passion project for Barris who described it as the "type of drama television I love doing. It pulls back the curtain on what it's like to be a woman in a historically male-dominated field and it shows underrepresented voices." It also did not go to series." So, say goodbye to "Unit Zero", you can still check out a couple of on-set pictures from March 2017.
Posted on March 25th, 2018 by Frederik
It's been merely four weeks since we got a chance to watch the theatrical trailer for "Birthmarked", an odd-quirky comedy starring Toni Collette and Matthew Goode, which has been filmed last year. Now, it has received a theatrical release – THIS WEEK! As its distributor Vertical Entertainment has posted on its Facebook page, "Birthmarked" will be released across the USA on March 30th. A complete list of venues can be found below. No word on further international releases yet or an on-demand premiere, so we'll see. The fast release will most likely mean that there will not be a lot (or any) promotion for the release, which would be a shame. Here's the official synopsis: "When two respected scientists quit their jobs at a prestigious university and tackle their biggest experiment to date – parenthood! Raising three children against their genetic predispositions, they seek to prove that everyone has the same potential to become anything they choose. The big question being, are we born as we are, or can we blame our parents for who we become? Hilarity ensues as this unconventional family soon discovers the ultimate power of nurture over nature."
Continue Reading